Shop
Audio Test & Speaker Sets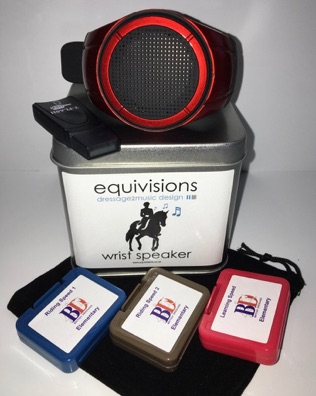 Wrist Speakers
Storage tin free with all speakers
Equivisions are delighted to stock a product we believe is the ideal solution to playing your dressage to music and audio tests whilst riding!
No need to dismount to press play!
No need to bully a friend to operate the sound system!
No head phones falling out of your ears or your phone falling out of your pocket!
No more driving the car to the arena and winding the windows down!
No more blasting out the neighbours so you can hear the music at both ends of the school!
It makes your smart phone handsfree
Can be used with your phone to hear your coach more clearly
You can download audio lessons too from SoundSchooling!
Stay safe whilst listing to music when hacking
We advise you introduce the speaker from the ground first whilst grooming before mounting its quite loud at full volume! The speaker is no bigger than a large watch and packs a huge 3W of power, Its quite loud and the quality is amazing for its size. We had to turn it down! Half volume was plenty when we tested it..
The battery charges through a standard USB cable and lasts about 2hrs on a full charge It come with a micro SD card installed and adapter. If you have had music from us in the past we will send it complete with your music on ready to go! Mk5 speaker is water resistant with a more robust casing. Mk6 has a built in radio.
From £35.00 including a Micro SD Card usb, adapter (to fit into your computer) and charging cable. English instructions plus instructions on how to get the music onto the card and a no quibble 12 months warranty!
You will receive an order confirmation via paypal.
British Dressage Audio Tests on CD
Ready Made Drssage Music
Prêt a Danser!
Ready made Kurs designed to give you a taster of dressage to music!
Ready made CDs cost £40 plus postage to the UK and come complete with 2 personalised competition CDs in a presentation box, and all the info required for British Dressage competitions
Simply click on the type of horse below which is closest to your own to open a new page of suitable music.
Music is edited to average times to suit both prelim/novice tests and elementary/medium tests which have longer canter sections. You can however fit a novice plan to the elementary/med pieces if you wish to include more canter.
Simply buy your music and then design your own floor plan to fit! *
Trot BPM to give you a rough guide.
Please provide you horses name in the comments box at Paypal Checkout.
Horse / Irish Sports Horses / Warmblood Cross / Spanish Trot 80-85 BPM
Athletic Horse with naturally elevated paces Trot 70-75BPM
Pony/ Traditional Cob/ Native Trot 84-90 BPM